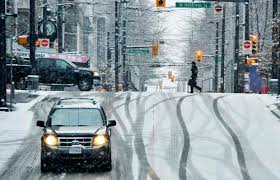 The rare but inevitable snowstorm has blanketed snow across Metro Vancouver and you're now wondering what impact this may have on your home. 
 Condos unlike houses often have the benefit of underground garages to keep your vehicle dry, and property management services to help with regular outdoor maintenance. That doesn't absolve owners of risk and responsibilities.. Owners still need to be diligent and do their part to ensure their community is safe, they aren't exposing themselves to unnecessary risk, and ensure their condo's value is being maintained.
With snow and ice like any adverse weather conditions comes challenges and liabilities. Strata's have a responsibility under the "Strata Property Act" to ensure common roads, walkways and facilities, are safe. This often means with cold weather that they need to be being shovelled and salted to prevent injuries. Your strata's annual budget will include a section specific to winter weather maintenance. If you feel your property management company is not proactive enough when snow and ice arrive contact them to bring this to their attention. An email is a good way to record the communication and you can find your property managers contact information in the strata meeting minutes.
Too many times I have reviewed strata documentation for clients considering a condo purchase and seen in those documents litigation based on claims that strata's have been negligent in their common area maintenance. The risk is real, and the cost to owners can be very high.  Sometimes in the millions.
Heading South? A Few Tips:
Unplug all appliances (TV's, microwaves, coffee makers', etc) to conserve energy and prevent fire hazards. 
Make sure all windows and door are closed properly to prevent drafts and secure the home
Check your humidistat and ensure its set properly. Too much moisture in the home can damage window frames, wood floors, and create mold in the home.
Turn off main water valve in case a leak happens in your absence. 
Protect outdoor faucets by ensuring they are insulated
Inform a trustworthy neighbour or the property management so should something happen and emergency access is needed they can enter the home to address the problem.  

Thinking of buying or selling a downtown condo? We're here to help! 
Contact us to find out why we sell the most.